What comes to your mind when we talk about ethnic wear?
Is it the woman in a lehenga walking down the aisle? Yes, everyone thinks of a woman when the word 'ethnic wear' is heard. But in recent times, ethnic wear for men is a new vibe altogether. The ethnic collection for men is not only diverse but also magnificent as compared to women's ethnic wear. It does receive less limelight but as said the current world has tremendous demand for it. Maybe this is the reason why ethnic wear for men is now available easily online.
We understand how difficult it is to choose the perfect traditional wear as it is not a part of everyday clothing. So, for special occasions, you do obviously need something really special! What if we say you can get it in the comfort of your home? Indeed, that is possible! In this steady world, online shopping has simplified our lives completely. You can also shop for ethnic designer wear for men online. Are you skeptical about buying an expensive traditional dress for men online? That is absolutely fine as many of us do face this concern. To clarify your doubts, we have brought up some amazing reasons that shall compel you to buy ethnic designer wear for men online.
1.   Varied Designs:
What happens when you go to a shop to purchase Indian wear? The shopkeeper might show you the same designs, colours, silhouettes and quite similar designs and garments. This makes the entire shopping experience really boring. Online stores in comparison offer a wider variety of motifs, patterns, and fits. No matter whichever type of Indian traditional dress you decide on- the diversity available online shall mesmerize you entirely. How about a simple net sherwani in green or a gold silk sherwani with Resham work? A heavy zardozi sherwani is not worth ignoring either! Don't settle for something boring when you have a plethora of items on the screen in front of you.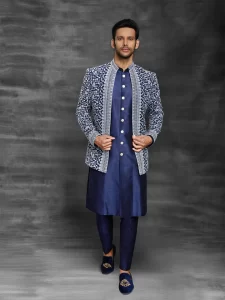 2.   Easy Buying
We all know how convenient it is to shop for anything online. Everything ranging from groceries to miscellaneous items in the household is now available online. When we have such hassle-free options, then why not just consider them purchasing a traditional outfit too? You can do online shopping from anywhere and everywhere, in your free time. For instance, if you would like to take a suggestion from a Lakhnavi jacket style indo-western or a maroon classic Jodhpuri from a few of your friends, you can ask them to go to a particular website and check out clothes for you to help you decide. In short, it eases your selection process as well. The filter choice at online stores makes it easy to buy garments as per style and preference. Further, the purchase process is absolutely simple!
3.   Better quality
Are you planning to get your traditional wear stitched? Well, we advise you not to, as the tailor may compromise on quality. It might happen that you select one material but get one of a low-quality stitched later. It is like playing cards – the probability of getting the best is rare! Plus, you only get limited materials to choose from. With online platforms, you get a good amount of quality fabric that too completely stitched! Now you don't have to worry about how well the outfit will look on you when it's made. Online brands typically have custom-made outfits that are exquisitely selected to provide a rich feel to their customers. You exactly get what you are paying for. Also, online ethnic garments have a polished look and have not been tried by many others. Trust us, it is a perfect fashion investment that you can do!
4.   Better Prices
Designer kurtas or any other ethnic wear available at the store has a fairly high price. We understand how challenging it is for a normal individual to invest so much in an outfit that he might repeat twice or thrice. This is why we totally recommend online shopping for ethnic wear as the price is very reasonable in online stores. Additionally, you may also get a lot of discounts and offers which is not really possible with offline shopping. Surely, who doesn't like to save some money? This will make your entire shopping exciting and fun!
5.   Higher comfort
Stores generally have outfits that are limited to certain sizes. Sometimes you may have to compromise on the length while sometimes you have to compromise on the colour or the fit of your trousers. This makes the outfit very uncomfortable. You may also face a similar situation when you plan to get it stitched. So, say no to this hassle, with yes to online shopping for men. Online stores offer many sizes from the smallest to a plus one in ethnic wear that is suitable for almost everyone out there. For example, if you and your brother plan to wear a white sherwani with floral motifs at your sister's wedding but you guys have opposite sizes. Then, an online tool can be your saviour as the size options in the same category shall fulfil your desire to twin.
6.   Refund and replacement policy:
Imagine buying a sherwani from an outlet near you. On reaching home you notice that the stitching has worn off in some places. Do you think, you will get a refund for this damaged product from the store? No right? Online stores have an upper hand as they address the concern of damage and make sure to either give a refund or replacement of the product as per customer will. Also, if you buy a teal green jodhpuri online and it does not come as per your thought, then you can return that too. Many online platforms have a policy to return a garment within 15 to 30 days of purchase. This makes it even much better in case you detect damage quite later.
7.   No crowds and queues
Online stores help you from insisting on the shopkeeper again and again to show you the kind of product you want. You don't have to deal with the crowd that is usually during the festival or wedding season. On such occasions, the physical shops are crowded and the salesperson might not even entertain much. But don't worry, as online shopping can entertain you completely as per your choice. You don't even have to wait in long queues to get your bills done. After all, shopping is to make one happy and not tiring and online platforms really understand this well!
8.   Compulsivity
Online shopping saves you from spending more. Are you wondering how? For example, if you like an Indo western outfit at a physical store, the salesperson might use his tricks and tips to compel you at a budget higher than yours. We are sure you might regret this decision later! But with online shopping, you only buy a product within your budget. Plus, there are no hidden charges involved in it. And even if you don't buy from a particular website, it's okay to shut it and go which might get a little embarrassing at a physical store.
Conclusion
So, are you now ready to buy your ethnic wear online? Believe us, it shall be stress-free when you do so! To make your shopping experience better, we recommend you to visit Rechannel Fashions online store as they have an extensive collection of ethnic wear for men. The Alluring outfits are worth spending on. Also, they have a new collection every time on board. The overall description of the product makes it easier to select and compare your shortlisted ones. So, what makes you doubtful now? The best online store for traditional menswear is open for you. Happy shopping!